If I Stay is a beautiful,  moving and picturesque drama film staring Chloé grace moretz of kickass fame.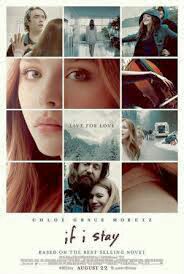 The movie revolves around Chloé, her loving and caring family, a fairy-tale lover of sorts Adam and her aspiration of becoming a cello player and getting into prestigious Juilliard College.
It is an emotional drama of sorts which is highly predictable and the soundtrack just blends so nicely and gives a good feel to the movie.
The performance of the cast is ordinary and the soundtrack makes this movie a one time watch. The movie may please the audience who likes slow drama which bring down tears.
My Verdict:
(3 / 5)