No human in their right mind plans to get sick or hurt, but most people need medical care at some point in their life. Life & Health insurance covers these costs and offers many other important benefits.
Insurance protects from unexpected and high medical costs.
You pay less for covered in-network health care, even before you meet your deductible.
You get free preventive care, like vaccines, screenings, and check-ups, even before you meet your deductible.
If you have a Marketplace plan or other qualifying coverage, you don't have to pay the fee that many people who don't have coverage must pay.
Choosing the right type of insurance can be confusing, but it's an important and mandatory decision which everyone has to make. Here are some tips to get the best insurance for your needs.
Buy when you're healthy.
Buy enough term coverage to fill your needs.
Match the term of the policy to your needs.
Keep your investing and insurance strictly separate.
Compare before shopping.
Now that I have laid out the basis, here I bring you the best life insurance of the lot which is available in India at the moment.
Its Edelweiss Tokio Life Criticare+ !!
Introduction about the Company:
Edelweiss Tokio Life Insurance Company is a joint venture between the Edelweiss (74%), a financial services company in India, and Tokio Marine (26%) which is one of the fastest growing Life Insurance companies in Japan. The company is the latest entrant in the private life insurance space.
Edelweiss is one of the leading financial services companies in India. Since its inception in 1996, the company has diversified its offerings to include businesses ranging from Credit, Asset management, Capital Market, Housing Finance and Insurance. He group's net worth is more than Rs 2,400 crores. Edelweiss is present in 170 cities through 374 offices, and has more than 3000 employees that cater to more than 3,25,000 clients.
Tokio Marine Holdings Inc, the holding company for Tokio Marine group is one of the oldest and biggest insurance companies in Japan; with interests in Life, Non-Life, and Re-Insurance. It is a highly respected company around the world with its presence in 427 cities across 39 countries. The company has more than 130 years of history in the Non-Life sector while it has been in Life Insurance since 1996. It has a presence in Japan, China, Singapore, Malaysia and Thailand. The Group has booked revenues of INR 1,77,650 Crore and Net Income of INR 3,884 Crore.
Why Edelweiss Tokio Life Criticare+ ?
This insurance offers the best solution suited for our needs. This critical illness plan helps us ensure that our family can work towards the recovery to health without worrying about the finances. Edelweiss Tokio Life – CritiCare+ is a non-participating, non linked critical illness plan that covers a truly wide range of 17 critical illnesses. There is also a MULTI CLAIM option where in we can make claims up to 3 times during the policy term in case of any other Critical Illness.
There are totally 17 critical illness covered under this. They are given below in the snapshot.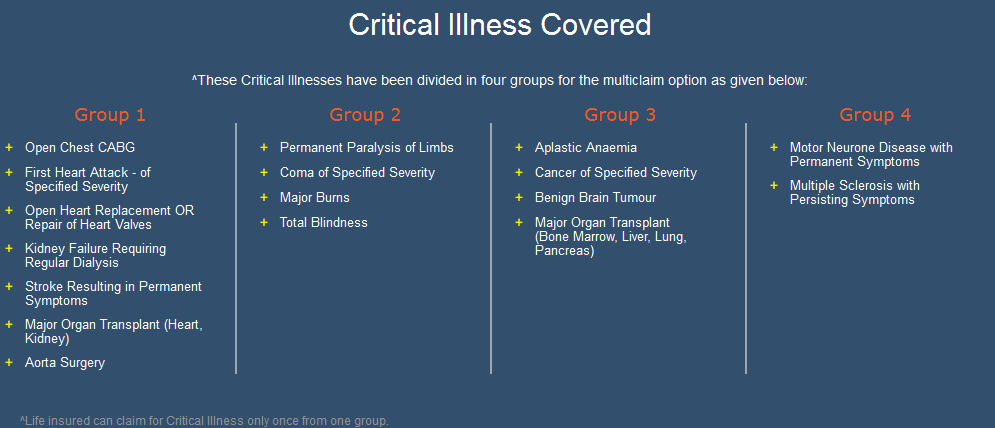 Anyone from age 18 to 65 can opt for this insurance with a policy term of about 5 to maximum 30 years. And the sum insured is up-to 1 crore from 5 lakhs.
The Major benefits of this are
More cover Up to 1 crore
More illness covered (17)
MultiClaim option
Waiver of future premium on occurrence of first claim in multiclaim option.
Attractive pricing
Easy application through online
Tax benefits under Section 80D and Section 10 (10D) of Income Tax Act, 1961.
Take care of your family by taking care of yourself !! Apply online now –> CLICK HERE
For More info & Brochure –> CLICK HERE