If you just got a new Job in Bangalore or transferred to Bangalore, no need to panic. Its so easier now to relocate.
Bangalore being the IT HUB of India, many engineering professionals get a job there. The Climate is also very welcoming as it is neither hot nor cold. It is also a very good place for fun activities as it has multiple fun, amusement and recreational areas.
I spent my two and half years in Bangalore and loved every bit of it. In this post I give you an easy way to relocate to Bangalore without any tension.
If you are relocating, just pack your bags and go there. Upon Arrival just login into http://bangalore.quikr.com/ and let it take care of the rest.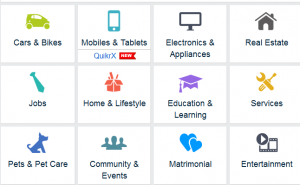 If you open the link, you can see all the versatile categories it contains. From Automobiles, mobiles, home, pets education, jobs and everything.
All you have to do it click on the category you like and search for the best offer and buy QUIKR.
So here I dedicate my small remix of the famous 'Everything is awesome' song from the movie LEGO 🙂
Everything is awesome
Everything is cool when you buy from QUIKR
Everything is awesome when we're living the dream
Have you heard the news, everyone's talking
Life is good 'cause everything's available at QUIKR
Lost your job, it's a new opportunity
Search a new one at QUIKR
I feel more awesome than an awesome possum
Smellin' like a blossom, everything is awesome
Stepped in mud, got new brown shoes from QUIKR
It's awesome to get everything cheap at QUIKR
Bikes, Books, Clothes
They're awesome
Cars, clocks, and socks
They're awesome
Electronics, services , and real estate
That's awesome
Everything you see, or think, or say
Is awesome coz
All of these are at QUIKR.
Everything is awesome
Everything is cool when you buy from QUIKR
Everything is awesome when we're living the dream
And there is also something even cooler. If you cant find something you are looking for, you can create a new alert with your needs. If someone else finds related to it, they can contact you and your wish will be fulfilled.
So QUIKR is your personal genie which fulfills your wishes.
Relocating has become tension and stress free all thanks to QUIKR.
Even if you are moving out of Bangalore to hometown and want to sell your furniture and household items, you can turn to QUIKR and without fikar (worry) you can bech Quikr.
They stand by their motto and offer a superb service. Even when I relocated to Chennai I had to sell my washing machine and fridge in Bangalore. I used quickr and sold it with in a day and the customer himself came and picked it up from my home.
No fikar, bech Quikr only at http://bangalore.quikr.com/