22 Jump Street is a sequel to the successful comedy film 21 jump Street staring channing Tatum and Jonah Hill.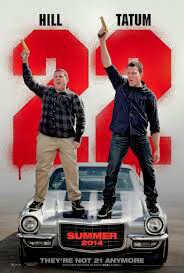 This film also follows the same formula as of its predecessor where our stars in mid thirties go on a undercover mission at a college to bust open the drug mafia.
The chemistry between the Co stars is amazing which is a big positive in this film. There are some fun moments in the film and crazy dialogues which brings laughter to the audience.  Also the typical bikinis and booze is also part of the film.
The fat female villan is totally unfunny and the thing which surprised me was the crazy credits.  So much of creativity oozed in making those awesome credits.
Overall this movie is a one time watch for folks who watch movie to get entertained.
My Verdict :
(3 / 5)