Last week it was tennis madness all over Chennai due to Aircel Chennai open finals with superstar players like Wawrinka and Leander Paes fighting it out in finals for the glory. Even I wanted to have a glimpse of what the madness is all about. So I drove there along with my pal to get a match ticket for the final day play on Sunday.
It was fully crowed with tennis enthusiasts, fans and people from many nations gracing the occasion with their presence. After a long wait in the queue we got two tickets in the East Brown corner of the Stadium. We went an hour early to escape from traffic and queue. The gates were opened by security personals and we started to rush in to get into the stadium.
Upon entering immediately after the gate there was a hoarding written as MARKET PLACE which had multiple stalls from all the sponsors advertising/ marketing their products. One place was fully crowded and we couldn't even know what is it. So we went closer to take a look at it first. When we came closer to it, we found the stall to be named as BOLT ARENA. We were wondering what it is and why so many people are behind it. When we got a chance to peak inside, a super cool sporty looking car in a apple red color was there. It was the center of attraction and many people where taking snaps with it and the stall people where welcoming everyone with a smile and explaining the features of this mesmerizing red devil.
As the crowd was huge the stall managers weren't able to respond to everyone's query at the same time. So me and my friend waited for our chance. After some time one of the representative introduced himself as a sales manager and gave a brief description about this newly released hatchback model from TATA. We were also asked to check out the car and it's features. Last year when ZEST was released by TATA, I had the privilege to test drive it in DLF office where I worked at that time. Some of the features mentioned by representative were similar to that. While ZEST was a low priced powerful sedan this BOLT was a super hatchback with more features than a Sedan.
Here are the five distinct features which caught my eye during the visit of BOLT Arena.
Comfortable and Spacious :
My family consists of five members and it is often discomfort to sit inside a hatchback during a long drive. When I checked out Bolt it was surprisingly spacious for a hatchback. And the comfort level was also top notch. The seats were of rugby shoulder type which offers maximum comfort. And the representative proudly said bolt offers superior spacing in hatchback segment among the competitors in Indian market. By the looks, it is true.
Connectnext by Harman:
Harman is a world market leader in audio and infotainment equipments. I was literally stunned when I heard BOLT has a touchscreen infotainment equipment called Connectnext by Harman. It has a array of features to stun everyone. With GPS voice recognition and smartphone compatibility this makes BOLT class apart. Harman equipments are usually associated with luxury cars such as BMW FERRARI etc. And it's a boon to Indians that our Indian company TATA came up with this partnership and made us proud.

Safety features :
As life is precious we all care about what safety features our vehicle offers. And BOLT doesn't disappoint us at all. It comes up with the all new generation ABS system. It also has dual airbags which is a rarity in hatchback segment. Corner stability control feature helps us stay in control at all times.
Multi Drive :
When the representative told us that BOLT comes with multi drive feature, I immediately wanted to know more about it, as it was new to me. So he started explaining in detail to me. Bolt comes up with this feature where we can select different driving mode as per our convenience. This offers better mileage and fuel efficiency. The three modes are Sport, eco and city.
Sporty Look and Color variants :
I still remember the dashing and Sporty look which made everyone to take a snap with the BOLT. The color Venetian Red is my favorite as Red is my favorite color. It also comes in some beautiful shades of colors such as Dune beige, platinum silver, pristin white and sky Grey.
Even I took a souvenir back home, a snap with the red devil which is going to rock the streets from now on.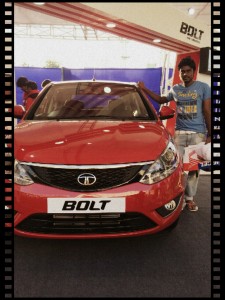 The representative was very friendly and helpful and while leaving he also gave a wrist band to remember the visit.
I bid my goodbye and went to watch the epic finale in the stadium.
Watch the below video and explore more about this beautiful beast of a machine.

Just how Thor smashes everything with his lightening bolt, TATA is going to smash records and BOLT like his big brother ZEST is going to cause a Storm in automobile market.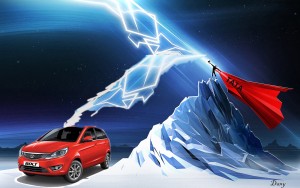 Book yours now : Click here
Disclaimer: "This post is a part of the Get. Set. Bolt. activity at BlogAdda."  Images used are either clicked/edited by me. Few of the others were taken from http://tatamotorsbolt.com/ & http://boltarena.tatamotors.com/