The title of this post might have intrigued you to ask "I am Clean.I am keeping my home clean. Why make India clean?, Isn't it Government's Job to keep it clean using taxpayers money?"
We the humans can't stand to see our home/work place dirty or untidy. At least once in a week we mop and clean our house. We take so much care as we spend most of our time there. Similarly INDIA is our home so it becomes our social and civic duty to keep it clean. Public Transports, Parks, roads, railway stations, malls, Bus stops all these are pride of our home called INDIA. These are part of our day to day activity, yet we spit and litter all over as if it doesn't even matter. And finally we play the blame game and blame it on the Government.
Lately most of us have been either hearing/speaking about the Swachh India and similar campaigns but forget it later after voicing just our opinions. If we want a Change to happen, it has to start within. That is why Gandhi said "Be the change you want to see in the world".
Now you may ask "How does cleaning it help" ?
Well Cleaning helps in raising awareness about sanitation and hygiene. Cleaning helps to maintain hygiene and prevents us from catching deadly diseases. Yes, being unhygienic can lead to lot of health problems. In Many rural villages there are still no latrines used. Even in developed city like Chennai there aren't proper disposal of sewage or wastewater. This causes ecosystem for mosquito's and leads to malaria etc.  When trash is not properly disposed and waste water joins  fresh water, it poisons it and disrupts the balance in nature and causes havoc for other creatures too. So proper cleaning, sanitation and hygiene goes a long way. It creates a ripple effect and creates lots of benefits for us and makes earth sustainable.
Being an ardent fan of Team Arsenal in EPL, I made myself a part of a Community called "Arsenal Chennai Fans Community" in Facebook. It was all fun and troll at the start.  During the FIFA world cup match between Ivory Coast & Japan, something just caught our attention (Not only ours, whole world too). The Japanese fans who came to watch the match, even though their team lost, they stayed and cleaned the whole stands after the match. It was such a wonderful gesture . When ISL came to Chennai, few folks in the community posted about doing the same deed in Chennai Nehru Stadium. Many included me were hesitant to join at first, but it become a huge success with many volunteers joined from second match onwards. Even though I couldn't join that effort due to work timings and restrictions, I felt really proud seeing my friends and community mates following a good deed and leaving a legacy. I have pledged to myself to take part in such initiatives in future and  it gave me the courage to join a similar initiative in my work place.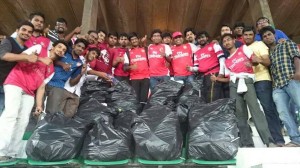 A Small spark set by Japanese fans has become a wildfire with so many people following the same.  Let this Cleanathon spark lit up and make way for brighter and cleaner INDIA.
What is Cleanathon?
RB (Reckitt Benckiser) and NDTV have partnered to launch "Dettol – Banega Swachh India" – a 5 year ambitious program to address the rising need of hygiene and sanitation in India.
The campaign will aim at creating awareness about the importance of hygiene and sanitation, and also work with NGO partners to support infrastructure for construction and maintenance of toilets. RB India has committed to spend a sum of Rs.100 crores towards this program over a period of the next 5 years.
As a part of this initiative, NDTV & Dettol are organising a 12 hour LIVE televised CLEANATHON on 14th December, 2014, which will bring together the entire nation towards better sanitation & hygiene. Mr Amitabh Bachchan is our campaign ambassador and will be the host of this event. The show will include LIVE ground events from different parts of the country which will bring citizens together to engage in a mass Cleanathon all day from 9:00am to 9:00pm and will see participation from Chief Ministers, other government voices, corporates, opinion-makers, PM's Swachh Ambassadors, Bollywood & Sports personalities & other celebrities.
For More info: http://swachhindia.ndtv.com/
Let us follow what Our Beloved Michael Jackson sang and Heal the world together 🙂
"Heal The World
Make It A Better Place
For You And For Me
And The Entire Human Race
There Are People Dying
If You Care Enough
For The Living
Make A Better Place
For You And For Me"