India being the second most populous place in the world, still lags way behind in the smartphone penetration zone. Only about 16.8% of Indians use smartphone.  Researches predict overall worldwide smartphone penetration may hit 50% by the end of 2017. Still India will struggle to touch 35-40% by 2017.
There are various reasons people state for not switching over to smartphone. Some of them are
1) They are way too costly
2) If they are cheap, they lack the quality & finesse
3) New models come up frequently and upgrading makes us go bankrupt
4) Phone is for calling, these smartphones comes with so many widgets & bloatware which are not for everyone need.
Well Motorola the pioneers in mobile technology, who introduced the handheld devices way back in 1973 and laid the first step for this smartphone evolution says NAH to these misconceptions and urges us to START WITH MOTO-E
Now that they have made their claim, let me tell you why to #ChooseToStart with MOTO-E and how it smashes all these misconceptions people have about the smartphones.
They are wallet friendly :
Yes you heard it right. They aren't costly like people think and doesn't make a dent in the pocket. The Moto E Second generation with 3G Connection costs only 6999/- bucks . Its way too cheaper considering many brands sell their basic model bar phones in similar prices. Motorola shares the vision to make everyone a smartphone user. So they came up with the business strategy to introduce cost effective smartphone to everyone which offers great value for money.
Moto E Back-story:

Our challenge was to create a premium smartphone experience for people who don't want to spend a lot of money. We put some of our top engineers on the task.

The result: the new Moto E, which brings some of our signature software experiences to our most affordable phone for the first time, so more people everywhere can choose a great smartphone.
Lets hear it from the man behind the strategy RICK – President & COO of Motorola !!
They are of Highest Quality:
People think that Quality is inversely proportional to the cost of the product & if the product is cheap it is bound to defer in terms of quality. But Moto E is not the same.
When we were designing this new generation of Moto E, we went back to consumers who bought the first generation. We really listened to what they liked and how we could make this affordable device even more useful and more powerful. We were able to pack in a quad-core processor, an all-day battery, a new front-facing camera, and a 4.5″ qHD display—and still keep the phone at an ultra affordable price – KRISTIN ARNOLD / RESEARCH DESIGN DIRECTOR
If you still think it lacks in quality look at the below specification.
———————————————————————————————————————————————————————
Operating system
Android™ 5.0 Lollipop
System Architecture/
Processor
4G LTE:
Qualcomm® Snapdragon™ 410 processor with 1.2 GHz quad-core CPU, Adreno 306 with 400 MHz GPU
3G:
Qualcomm® Snapdragon™ 200 processor with 1.2 GHz quad-core CPU, Adreno 302 with 400 MHz GPU
Memory (RAM)
1GB
Storage (ROM)
8GB*
Removable storage: Supports up to 32GB microSD card
Dimensions
Height: 129.9 mm (5.11 inches)
Width: 66.8 mm (2.63 inches)
Curve: 5.2 – 12.3 mm (0.20 – 0.48 inches)
Weight
145 grams (5.11 ounces)
Display
4.5″ qHD 540×960 245 ppi IPS
Corning® Gorilla® Glass 3
Anti-smudge coating
Battery
2390 mAh
Mixed usage up to 24 hours**
Water Resistant Coating
Yes
Networks
GSM/GPRS/EDGE, UMTS/HSPA, 4G LTE
GSM/GPRS/EDGE, UMTS/HSPA
Bands (by model)
Moto E with 4G LTE – US GSM (XT1527):
GSM/GPRS/EDGE (850, 900, 1800, 1900 MHz)
UMTS/HSPA+ (850, 1700 (AWS), 1900 MHz)
4G LTE (2, 4, 5, 7, 12, 17)
Moto E – US GSM (XT1511):
GSM/GPRS/EDGE (850, 900, 1800, 1900 MHz)
UMTS/HSPA+ (850, 1700 (AWS), 1900 MHz)
Moto E – Global GSM (XT1505):
GSM/GPRS/EDGE (850, 900, 1800, 1900 MHz)
UMTS/HSPA+ (850, 900, 1900, 2100 MHz)
Rear Camera
5 MP
f/ 2.2 aperture
Quick Capture
Tap anywhere to capture
4X digital zoom
Slow motion video
Burst mode
Auto HDR
Panorama
Tap to focus
Front Camera
VGA
SIM Card
Micro-SIM
Connectivity
Micro USB, 3.5mm headset jack
Bluetooth® Technology
Bluetooth version 4.0 LE
Wi-Fi
802.11 b/g/n
Speakers
Earpiece, loudspeaker, 2-mic support
Video Capture
720p HD Video, 30 fps (MPEG4, H.264)
NFC
No
Location Services
GPS, AGPS, GLONASS
Sensors
Accelerometer (x2), Ambient Light, Proximity, Sensor Hub
Base Color
Black or White
Removable Motorola Band
Motorola Bands
3 Pack Bands (sold separately) :
Turquoise, Purple, Raspberry
Red, Blue, Yellow
Motorola Grip Shells
Golden Yellow, Charcoal, Turquoise, Blue, Raspberry
——————————————————————————————————————————————
You can also hear from Magno (Moto Marketing Team) how they have embedded all quality products and still made it cost effective in the video below.
No Bloatware & Regular Updates:
Motorola like always promises to provide pure android experience. They don't deal with bloatware or widgets which consume lot of space. Most importantly they listen to voice of customers. They still believe CUSTOMER IS KING. That is the only reason, they bought most of the premium features from high end flagships to Moto-E.
Quick Capture has been one of the most popular features we have on Moto X. So we decided to bring it to Moto E, too. It's just one more way we are able to bring our premium innovation into a smartphone that doesn't break the bank – MICHELLE GATTUSO / PRODUCT MANAGEMENT DIRECTOR

Fans are always telling us how much they enjoy the Moto experiences found on Moto X. So we asked ourselves, 'How can we bring these experiences to more and more devices?' The sensor hub, dual accelerometer, and our software engineering allowed us to offer these premium experiences on a really accessible device – PARI DHARAWAT / SOFTWARE ENGINEER
Wanna know more? Take a look at below video to know how much they are committed to bring Pure android experience to everyone !!
Additional Benefits:
Some of the added benefits of this smartphone are the presence of dual camera. The rear camera if of 5 MP  which can take some splendid shots. Double twist to open camera even in locked state is really an added advantage. With the Front camera you can take loads of selfies on the go.
Forgot to bring your camera while dining? No worries !! use Moto E & capture beautiful shots to flood your Instagram timeline !!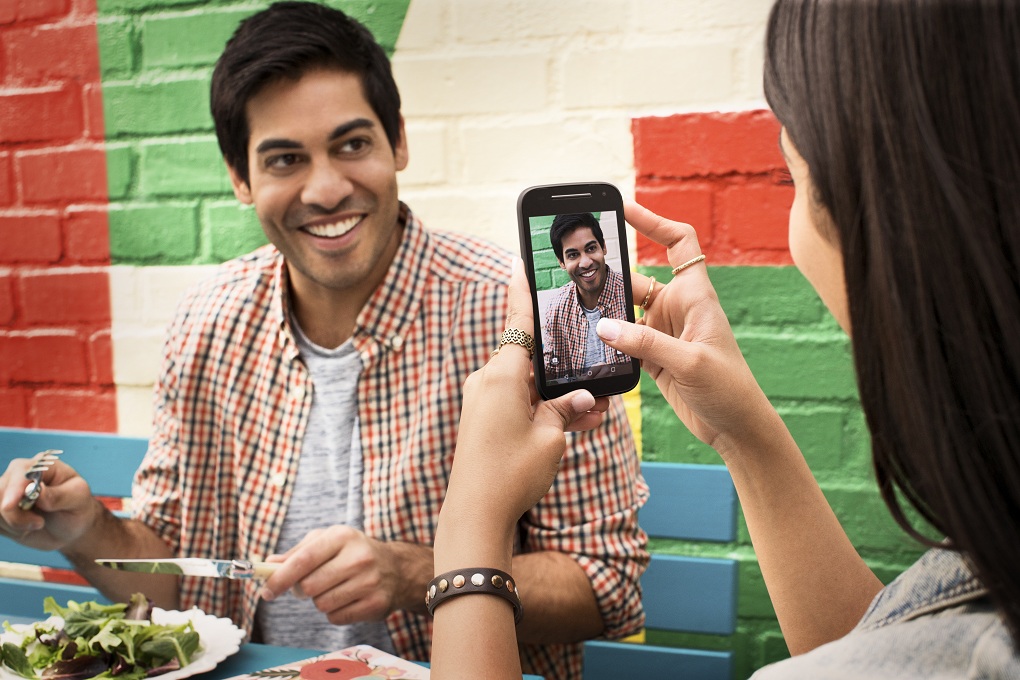 Add Colors to Your Life by customizing  Moto E. Choose from the wide range of colorful Motorola Bands or Grip Shells that are easy to swap out, so you can change your phone accent color as often as you want. Not only are the patented bands designed to look great, but they also feature a unique ridged pattern which provides an even better grip.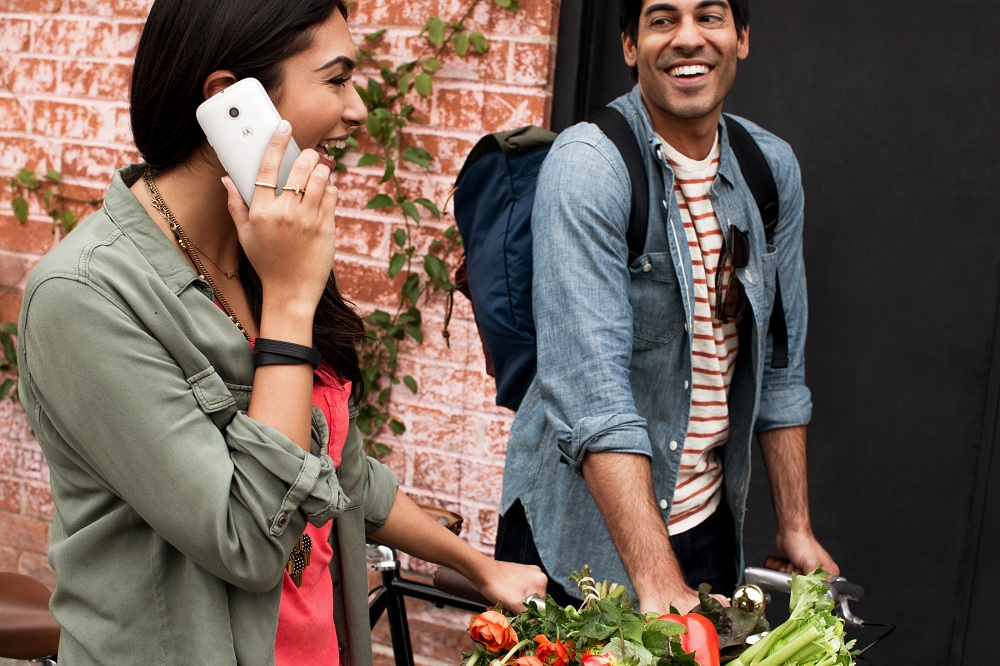 Gift it to your loved ones, so you can stay connected always. They will surely get addicted to it and will never let it go 🙂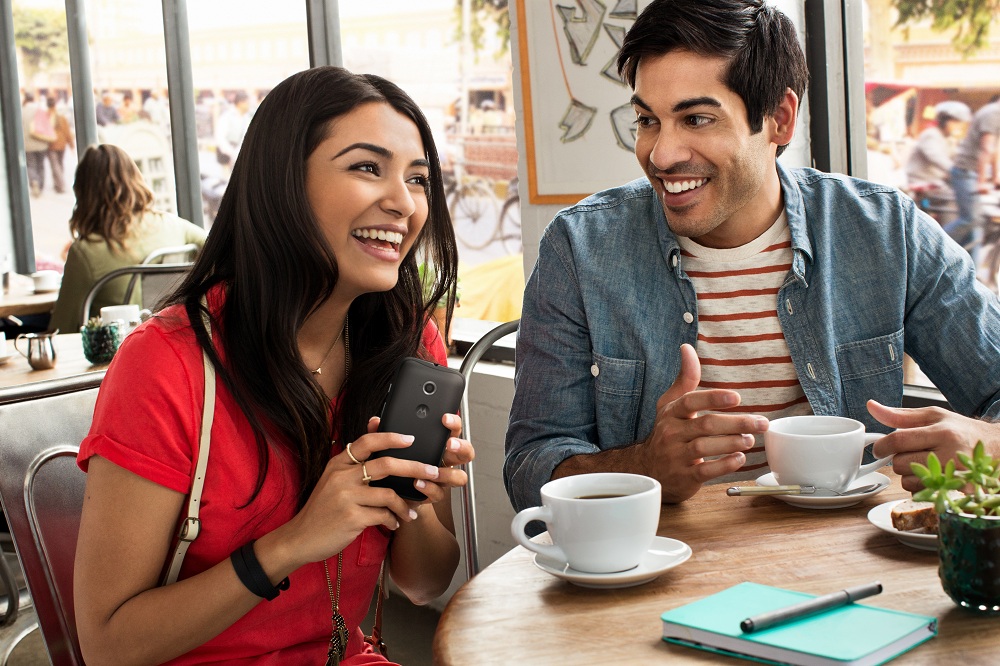 With Super Fast Quad Core processor , Latest OS & All Day battery you are in for a Buttery smooth Experience !!
Still in Dilemma whether to go for it or not? Well I have made my point, now the Choice is yours !!
#ChooseToStart a new smart life with Moto E !!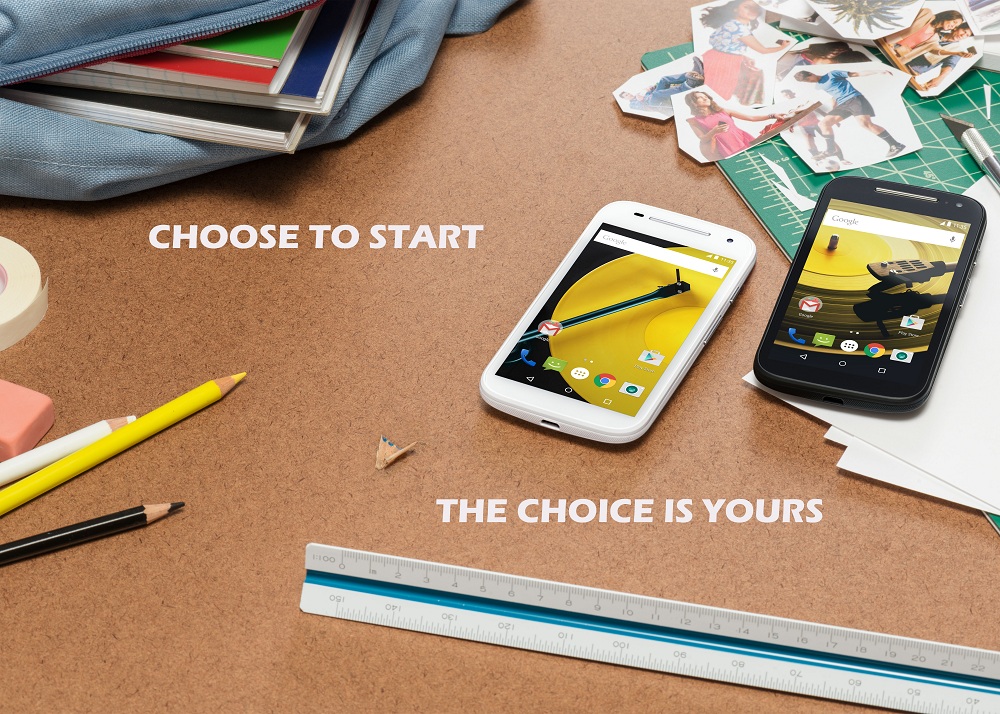 For Detailed Info Check Out : http://www.startwithmotoe.com/
Sources:
Images & Quotes: http://www.startwithmotoe.com/
Specifications: http://www.motorola.com