Whenever we hear about Singapore, all we could think about is the  shopping malls, Island resorts , universal studios, underwater aquarium, zoological parks  and other such architectural monuments. The one thing that skips everyone's mind is that Singapore is a food haven. Dining, is said to be the country's national pastime. The diversity of the food and variety of food representing different ethnicities such as Chinese, Malay, Indian and hybridization of these cuisines has led to multi styles of cuisines under one roof.
Dining along with shopping is one of the Singapore's best attractions. They also have a Food festival annually to celebrate multiculturalism of Singapore's cuisine. With availability of local to international cuisines ranging from vegetarian to Halal it would be fitting to call Singapore as FOOD PARADISE.
In this post, I present you some of my favorite dishes from the abundant Singapore cuisines !!
Bak Kut Teh:
This is a traditional soup which is very good for health. It contains multiple herbs and pork ribs. Its taken as a tea regularly in Singaporean households. Its is also very tasty which makes it a must have during Singapore visit.
Kaya Toast and Soft-boiled Eggs:
This plated art is a traditional Singaporean breakfast. It includes bread loaf, lathered with coconut and covered with layers of melted butter. Its so tasty you will feel like floating in heaven.
Mie goreng:
This is a classic. This fried noodles with its garish red appearance not only tastes spicy, it looks spicy too. With tomatoes, egg, green chilies, mutton mince, cabbage and diced potatoes it does make everyone salivate.
Murtabak:
These super-sized flat breads are  stuffed with minced mutton and onions. It is often fried in a pool of ghee or oil. Chicken and sardine versions of Murtabak are also available for those who find mutton too gamey. Its the one to turn too when you are too hungry. A perfect afternoon meal 🙂
Roti prata & its Variations:
This is most commonly available in Singapore. Its usually served with curry. Nowadays people are getting so creative with all kinds of fillings and combinations — cheese, mushroom, durian, ice cream, honey, banana, cashew nuts, and even sardines. It offers multiple variations to the original Roti Prata. Some variations such as Chicken Floss Prata, Red Bean Prata, Prata Benedict, Roti Plaster are both mouthwatering and delicious.
Ais kacang:
When it comes to desserts, nothing can beat Ais kacang. A grinding machine is used to produce the shaved ice mountain on top of a bowl of assorted ingredients like red bean, palm seed, agar agar jelly, chendol, grass jelly or any other filling desired. Evaporated or condensed milk is then drizzled on the top along with red rose syrup to produce the multi-coloured effect.
Here is my meme dedicated to the Food Paradise — Singapore !!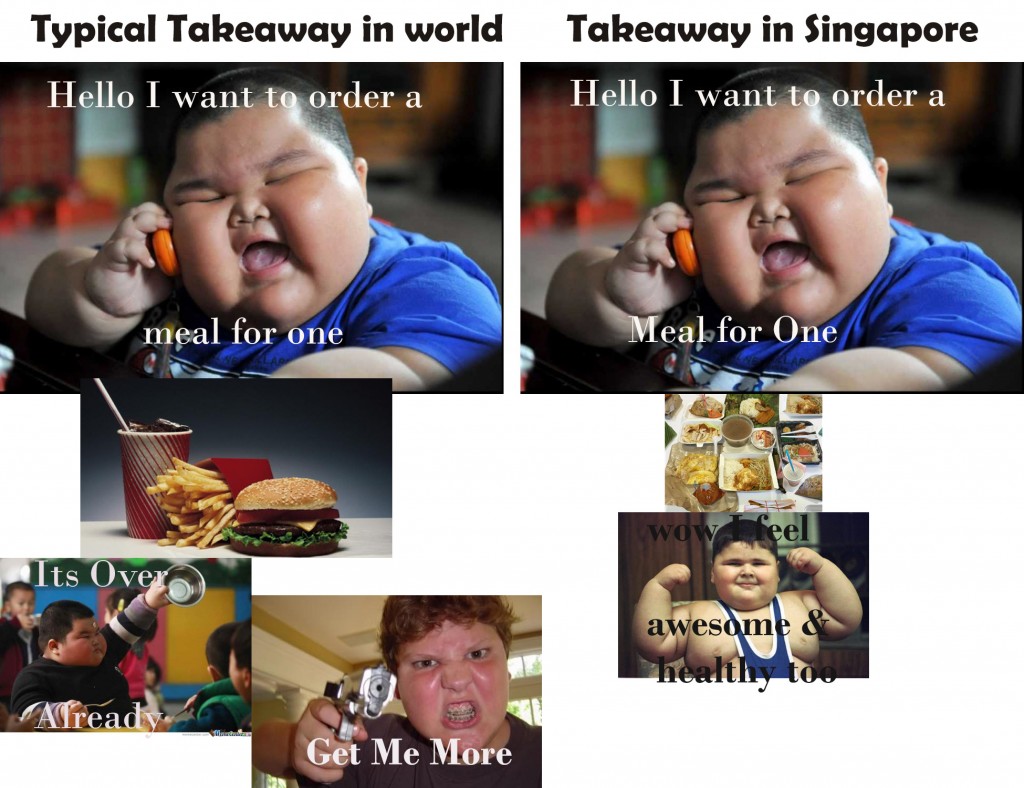 Want to know more about Singapore's cuisine and hospitality? Discover Here –> http://discover.stayfareast.com/