Summer is on it way and there is a big misconception among people that Denim's are not for summers & Denims are hard so we should go for cottons and linen in summers in order for our skin to breathe.
Well as I said, its just a misconception and you can wear Denim's in summer and still stay COOL !!
Here in this post I will tell you how to flaunt denim shirts in summer and rock it !!
Steps to Spice up the Summer with Casual look using Denim Shirts:
As we are trying to shop denim shirts for summers, we have to look closely at the fabric and weight of the apparels.
The fabric must be 100% cotton so it doesn't trap sweats and hot air against the skin. Summer's also a time when you want looser, breezier fits that allow a little airflow. So go for regular fits instead of tighter slim fits. You can go for both Half as well as full sleeves and in case of full sleeves you can always roll up the sleeves . Also check whether the denims are washed or raw. Unwashed raw denims will be stiffer and less breathable until broken in, so always go for washed denims both manual or machine washed will be fine.
Denims comes in grey, blue, navy and black colors mostly.  Denim shirts also give a bold and macho look if it has patches and stitch detailing. Choose the one you love in your favorite color.
Whoever said, denim shirts doesn't go well with denim trousers must have been blind.  Pairing a lighter shade denim shirt with darker shade denim trousers and vice verse will lead to a classier look. Light weight jeans can actually feel better than some khakis and chinos in the summer. If you are going for a sporty casual look, try denim shorts or colorful linen/cottons shorts to spark some magic.
Every attire needs a proper footwear to make it look complete. This applies even for casual looks. Perfect fit when denim shirts and jeans are paired up would be loafers/slip-on.  When the sleeves are rolled up, slip-ons without socks is perfect.  When shorts are paired up with denim shirts, its good to go with flip flops.
Keeping all these pointers in mind, I started to fill up my shopping cart in my favorite shopping portal ZOVI.
The search for the super denim shirt for casual summer look led me to this –> CLICK HERE
I immediately added this to cart, as it satisfied all my pointers.
I wanted to choose trouser instead of shorts for a matured look. As I added dark shaded denim shirt earlier, I looked out for a lighter shade trouser to go with it.
And the search ended with this –> CLICK HERE
As I have added trouser above to the cart, I searched for loafers which will complete my SUPER SUMMER CASUAL LOOK with DENIM SHIRTS.
This one caught my attention as it had same color texture as of the Denim shirt in my cart –> CLICK HERE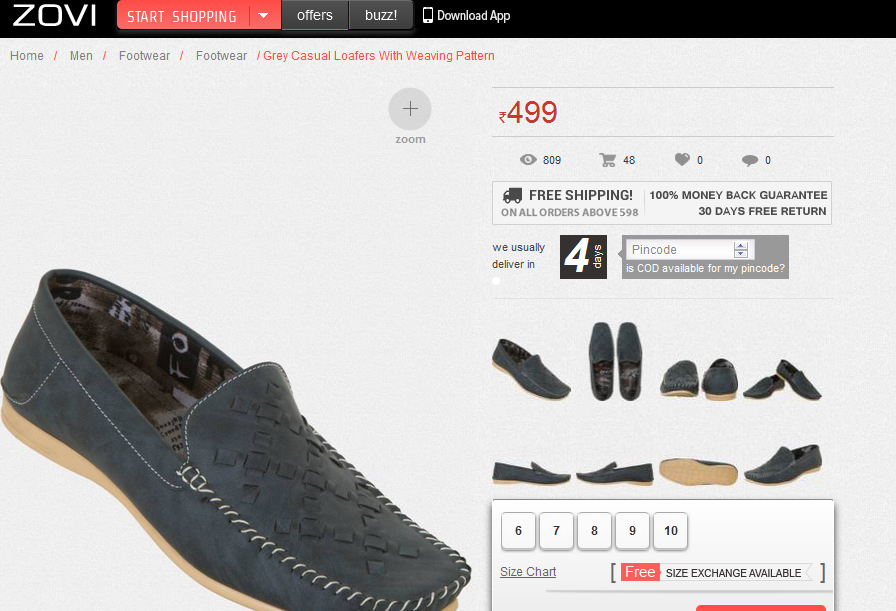 After choosing the size I added this to my shopping cart to complete the summer casual look.
As always Zovi surprised me with some super discount deals, which made the total sum to around 1700/- INR !

I paid it and after two days bell rang, the courier arrived in dazzling white package 🙂 !!
Loved the post? share your views in comments section !!