Guardians of galaxy is the most recent flick from marvel studio based on the comic by same name.  I had the privilege to watch it in fdfs when it released in India also I had a chance to watch it in Blu-ray yesterday.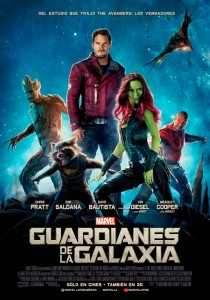 The film starts on a sad note with a kid being taken away from his dying mother and family. But picks up pace and becomes a non stop entertainer.
The casting is perfect and each role is done with perfection. The CGI is top notch and Rocket voiced by Bradley is just another level delivering some super cool punch dialogues.
Movie is a awesome blend of sentiment romance fun comedy and to top it off the soundtrack played in awesome mix volume 1&2are just outstanding.
I never thought Bautista and Chris Pratt can pull it off when I heard the casting of this movie but I stand corrected. Chris with his comical timing just nails his role.
With superhero flicks raising the bar and standards everyday this movie comes as a surprise package and delivers. This is a must watch film because there is never a dull moment in it.
My Verdict :
(5 / 5)